China
China is full of interesting people. The contrasts between old and new are overwhelming, and so are the faces that we meet as we journey through the country. These photos from China show show her people, how they live and focuses on the older China.
Tags:
Category: people

Back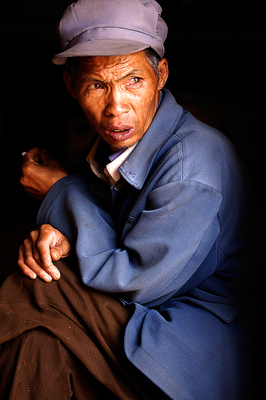 Peasant in Shaxi, Shaxi, Yunnan, China
An older peasant is sitting in on the door step of a restaurant, smoking cigarette stubs given to him by the patrons.
This image presented itself to me when I was having lunch in the old town of Shaxi in the mountains of Yunnan. The man slowly inched closer the our table the other patrons, gathering cigarette stubs and also hoping for something to eat.
The village is in a remote part of Yunnan, with few tourists and the farmers come from the surrounding villages to market every week. They are easy targets for the locals, since they hardly know the value of money and live a very secluded live.
The image was shot as he was sitting in the door, bathed in the light of the day against a dark interior.
Tags: