Beijing, China
The old imperial palace, also known as the Forbidden City, lies in the heart of Beijing. Surrounded by a wide moat and wall it houses many rooms, buildings and treasures from countless years.
Open to the public it is a place of hustle and bustle until closing time, then it quietens down and the light is just right.
These are just a few shots from the place, but you could spend a long time marveling at its treasures.
Tags: Art, Architecture
Category:

Back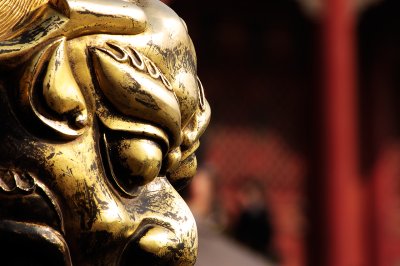 Bronze Protector, Beijing, China
The fierce face of this bronze head on one of the vast vats scare evil spirits away. The vats can hold fire or water, both important in a palace build entirely from wood.
In the background, the columns of one of the central buildings are seen.
Tags: