Shanghai, China
A new high-speed maglev train will connect Shanghai to Beijing, cutting travel times from 10.5 hours to four. The workers I spoke with in 2009 estimate that construction will take another three years to connect the two cities.
Tags: China, Construction
Category: Documentary

Back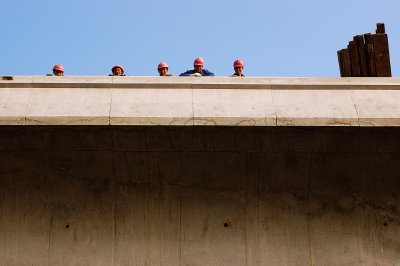 Seven Little Dwarfs, Shanghai
Well, there are only five, and they are not really dwarfs, but when I composed the shot, that is what they looked like. In reality, they are construction workers high up on a new piece of highway, looking down during a quick rest break.
The site near Shanghai was very accessible and people were curious and friendly as almost always.
Tags: