Shanghai, China
A new high-speed maglev train will connect Shanghai to Beijing, cutting travel times from 10.5 hours to four. The workers I spoke with in 2009 estimate that construction will take another three years to connect the two cities.
Tags: China, Construction
Category: Documentary

Back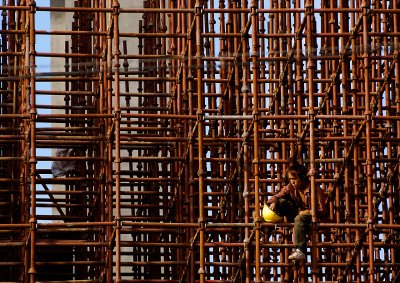 Rest in the Scaffolds, Shanghai
A young worker is taking five high up in the steel scaffold on a high way construction. The early morning sun casts a nice light on him. The steel rods and his clothes are the same color, the only break is the yellow helmet.
He looks lost, deep in thought, maybe wondering how much more construction there will be in his lifetime.
Tags: