Shanghai, China
A new high-speed maglev train will connect Shanghai to Beijing, cutting travel times from 10.5 hours to four. The workers I spoke with in 2009 estimate that construction will take another three years to connect the two cities.
Tags: China, Construction
Category: Documentary

Back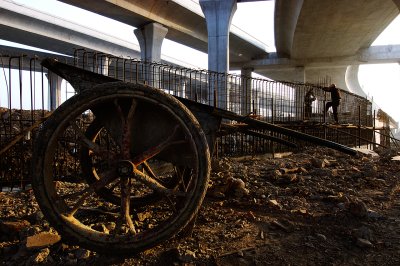 Wheel Barrow, Shanghai
An old rusty wheel barrow sits in a field of debris. The morning sun lights it up, as in the distance workers are braiding steel for another piece of high way.
Overhead several highways are parting ways . I like the juxtaposition of the massive highways and the simple, human powered wheel barrow. Sights like these are still very common in China and it always makes you wonder what could be achieved with better tools.
Tags: