Shanghai, China
A new high-speed maglev train will connect Shanghai to Beijing, cutting travel times from 10.5 hours to four. The workers I spoke with in 2009 estimate that construction will take another three years to connect the two cities.
Tags: China, Construction
Category: Documentary

Back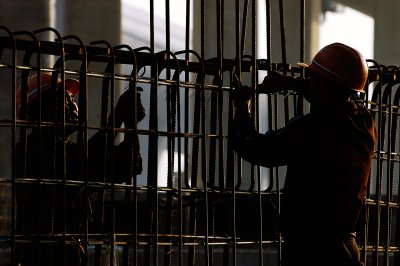 Tying Steel, Shanghai
Two workers are busy with some more steel, this time shot in back light, against the pillars of concrete already done.
I like the eyes and the expression of the man on the left. He is focused on his work, which seems and endless daunting task of tying steel and then doing it all over again tomorrow.
Tags: